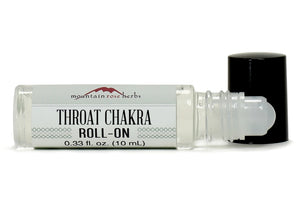 Our organic throat chakra blend has the fresh and piney aroma of evergreen trees. At a skin-safe 2% dilution, this blend is ready-to-use in a base of organic fractionated coconut oil. Our convenient roll-on bottles will go with you in your car, bag, or pocket.
The throat chakra, or vishuddha, is connected with sound and communication. This blend offers a breath of fresh air so you can be heard loud and clear. This balanced chakra helps turn inward feelings into vocal emotional expressions such as laughter and song.
Ingredients
Organic fractionated coconut MCT oil, organic cypress essential oil, and organic fir needle essential oil.