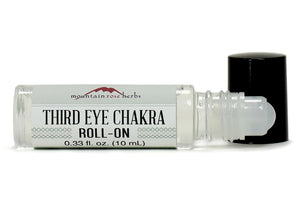 Our organic third eye chakra oil is a floral blend with warm and sweet notes. Hand blended in small batches at a skin-safe 2% dilution in a base of fractionated coconut oil. This convenient roll-on bottle is perfect for personal aromatherapy or a natural perfume. Store in a bag or desk, or carry it with you on the go.
The third eye chakra, or ajna, is located on the brow between your eyes. It is connected with creative sights and intuition. Meditation while focusing on the third eye is a valuable exercise for this chakra, and with balance it aids the ability to perceive clearly.
Ingredients
Organic fractionated coconut MCT oil, organic lavender essential oil, and organic ylang ylang essential oil.