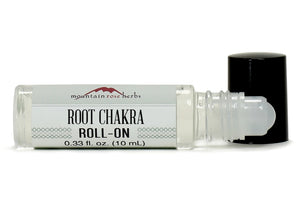 Our organic root chakra blend is handcrafted and inspired by earthly, grounded energies. Created in small batches in-house, this blend of pure essential oils is added to a base of fractionated coconut oil. Root chakra blend has a warm, earthy aroma with a gentle spice. At a skin-safe dilution of 2% you can use this blend topically or for personal aromatherapy. This convenient roll-on bottle can be kept in a pocket, bag, or desk.
The root or muladhara chakra is located at the base of the spine. It is associated with the earth, security, and foundational support. Meditating on the root chakra can help us feel cradled, secure, and grounded in our bodies.
Ingredients
Organic fractionated coconut MCT oil, organic Australian sandalwood essential oil, organic ginger essential oil, and organic cinnamon leaf essential oil.