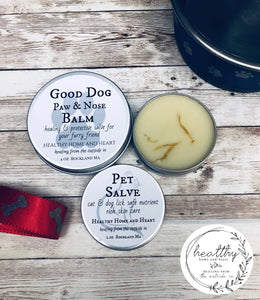 Paw & Nose Protector & Salve
Two blends the 4 oz for more protection for paws and noses, the 2 oz is a softer salve for use as a healing salve. Both formulas are protecting, soothing, & moisturizing. My dog used to nose everything and in the winter it made me nervous with all the salts, chemical de-icers, and who knows what all in the small pile of leaves she was interested in. This is more than a typical paw wax, originally made for sled dogs to protect their paws from ice. Both blends are skin soothing salves for dogs and cats. The smaller version is much softer and easier to apply to hot spots, dry skin, or any area needing help healing. No essential oils. Essential oils are not safe for pets.
To Use: scoop a small amount into your hands, warm it up or rub to soften, apply to puppy or kitty paws and or nose.
Ingredients: Beeswax, Calendula Infused Almond Oil, Shea Butter, Olive Oil, Coconut Oil, T-50 Vitamin E.
These statements have not been evaluated by the FDA. The use of herbs or oils for the prevention or cure of disease has not been approved by the FDA or USDA. These products are not intended to diagnose, treat, cure, or prevent any disease.
FOR EXTERNAL USE ONLY. Discontinue use and contact your physician if any adverse reactions occur. None of the above statements on Healthy Home and Heart's page or shop have been evaluated by the Food and Drug Administration. This product is for external use only (not intended for pregnant or nursing women), please do a patch test on the skin for any sensitivities and if any occur, discontinue use immediately. Avoid any contact with eyes, mouth or other orifice. Healthy Home and Heart products are not intended to diagnose, treat, cure or prevent any disease or conditions, instead, please consult a physician or other health care practitioner. Please be aware of any personal allergies PRIOR to using this product. If you have an allergy to any of the listed ingredients, this may not be the product for you.