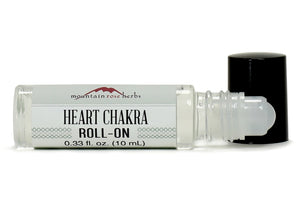 Our organic heart chakra oil is inspired by forging love and compassion. It has a floral aroma with sweet and slightly herbal undertones, hand blended in small batches at a skin-safe 2% dilution in a base of fractionated coconut oil. This convenient roll-on bottle is perfect for personal aromatherapy or a natural perfume. Store in a bag or desk, or carry it with you on the go.
The heart chakra is located in the middle of the chest, the center point of our body. Also known as anahata, this is the midpoint connecting the upper and lower chakras. When this point is balanced we can also find harmony in healthy relationships to love yourself and others. Openness, receptivity, and joy can be found as a result.
Ingredients
Organic fractionated coconut MCT oil, organic helichrysum essential oil, organic palmarosa essential oil, and organic geranium essential oil.