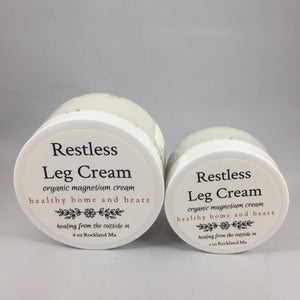 Whipped magnesium cream is also Marketed as "rest-less leg cream".

This is a moisturizing cream with a highly potent supply of transdermal magnesium. Those are just big fancy words for the magnesium is in an "oil" state so the skin can absorb it into the body. Magnesium is a mineral almost everyone should be taking. It helps metabolize calcium, build bones, increase quality of sleep, decrease muscle pain....and help those with restless legs.

I made this originally for a friend who has horrible restless legs. I thought hey maybe I should offer this to the public? So I am.

Magnesium cream is good for the entire body. Use as often as you like. For the restless leg my friend uses it morning and night on her legs. If you are using it for pain relief apply to the affected areas.
Ingredients:  shea butter, mango butter, coconut oil, jojoba oil, magnesium oil [filtered water, magnesium], bio plasma, peppermint oil, lavender oil, t-50 vitamin E.

For:
Restless leg
Poor sleep
Building bone
Juscle pain
Joint issue
Memory Support
Calms the nervous system

Allergie/Disclaimer
These statements have not been evaluated by the FDA. The use of herbs or oils for the prevention or cure of disease has not been approved by the FDA or USDA. These products are not intended to diagnose, treat, cure, or prevent any disease.

FOR EXTERNAL USE ONLY. Discontinue use and contact your physician if any adverse reactions occur. None of the above statements on Healthy Home and Heart's page or shop have been evaluated by the Food and Drug Administration. This product is for external use only (not intended for pregnant or nursing women), please do a patch test on the skin for any sensitivities and if any occur, discontinue use immediately. Avoid any contact with eyes, mouth or other orifice. Healthy Home and Heart products are not intended to diagnose, treat, cure or prevent any disease or conditions, instead, please consult a physician or other health care practitioner. Please be aware of any personal allergies PRIOR to using this product. If you have an allergy to any of the listed ingredients, this may not be the product for you.​